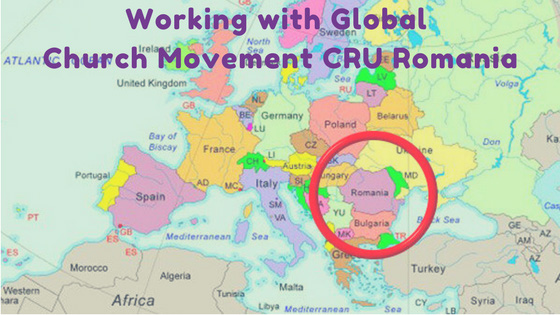 Sunday :: Worship / Fellowship
Message for Sunday, October 15th
Romica and Adina Tila have been married for 20 years and have two kids, 15 year old Esther and 8 year old Elias. They work with Cru in Romania, where they first heard the Gospel as students in college. Romica oversees Global Church Movements for Cru in his part of Romania where they use the Jesus Film and Jesus Film tools for both evangelism and discipleship.
If you would like to support the Tila family, please remember them in your prayers. You can also become financial supporters by visiting give.cru.org/2728082.
Key Verse
But in your hearts revere Christ as Lord. Always be prepared to give an answer to everyone who asks you to give the reason for the hope that you have. But do this with gentleness and respect,
1 Peter 3:15
Growthday :: Events
Youth Group
Wednesdays from 6:00 pm to 8:00 pm :: Middle and high school ages :: Meal with ministry to follow
Kids' Group
Wednesdays from 6:30 pm to 8:00 pm :: Fellowship Hall and basement :: K through 5th grade
Donations for our Kid's Group store nights have begun and are greatly appreciated! :: New toys and trinkets, $5 or less :: Drop off items anytime during office hours, Monday through Thursday, 8:30 am to 2:00 pm, and Fridays 8:30 am to noon :: Kids' Group leaders are also looking for 3 to 4 more adult helpers from 7 to 8:00 pm to help small groups with study questions and memorization. Interested? Talk with Pastor Kyle or Karen Dribnenki.
Youth Meal Needs
We are happy to stock up on items that are non-perishable or that can be frozen. :: Sign up in foyer and place items in Sanctuary Basement Kitchen by Tuesday at noon
Everyday :: Serve & Witness
Food Bank Needs
Suggestions for the month of October: ramen noodles, ketchup, mustard, coffee, small pancake syrup (place in the white collection basket in the foyer)
Operation Christmas Child
During National Collection Week, November 13 to 20, 2017, Samaritan's Purse will collect the gift-filled shoeboxes at nearly 5,000 drop-off locations in the US. Shoebox gifts are collected in the US, Canada, the UK, Australia, Germany Switzerland, Australia, Finland, Spain, New Zealand and Japan. :: For more information and resources, see the display soon to be in our lobby, or call Bernadette Rambo at 932-6013.
Cow Country Stampede
Join us Saturday, November 25th for a beautiful 4 mile run/walk in Melville, 20 miles north of Big Timber. The course is fun for all ages — bring the stroller, bring the family, pets welcome! 100% of proceeds go to support Montana on a Mission programs! Check back for more information and to register online at MontanaOnAMission.org.
https://www.bigtimberchurch.com/wp-content/uploads/2017/10/cru-romania.jpg
315
560
Big Timber Evangelical Church
https://www.bigtimberchurch.com/wp-content/uploads/2016/05/btec-logo-2.jpg
Big Timber Evangelical Church
2017-10-13 16:42:34
2017-10-13 16:42:34
CRU Romania