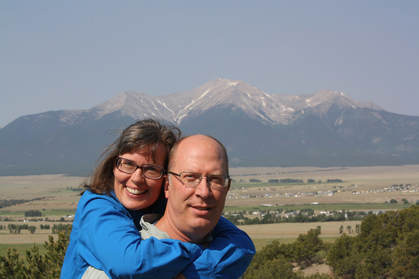 Sunday :: Worship / Fellowship
Sunday, January 27th
Jay was serving in his 15th year as Lead Pastor at Columbus Evangelical Church when called to be Superintendent of the Western Conference. He was formerly a Western Conference Chairman and Director of Kingdom Resources for our denomination.
Jay was licensed to Preach and Ordained in 2002 in the Western Conference of the Evangelical Church under the mentorship of Reverend Steve Strutz. Jay and his wife Lisa (married in 1990) have two children, daughter Sarah and son Josiah. Jay is currently a Doctoral student at Portland Seminary at George Fox University. He is a Denver Broncos fan!

Key Verse
Blessed is the one who does not walk in step with the wicked or stand in the way that sinners take or sit in the company of mockers, but whose delight is in the law of the Lord, and who meditates on his law day and night.
Psalm 1: 1-2
Growthday :: Events
Youth Group & Kids' Group
*Wednesday, January 30, in lieu of ministries here, we encourage you and your family to meet us at the Civic Center at 6:30 pm for the Johnson Strings Show. See info below.
BCC Summer Registration Open
Early Bird Registration is now open for summer camp, a $20 savings, available until March 15. As a church, we believe in this opportunity so much that we will cover $100 of your child's registration fee to attend. Just go to www.beartoothchristiancamp.org to sign up, and don't forget to use discount code '2019BT$100' during registration.
Life. Money. Hope.
'Life. Money. Hope.' is a four session small group on how to manage finances from a Biblical Perspective. It's helpful for those who want to understand more about what the Bible says about money, about getting out of debt, and/or about how to get ahead financially in life. George Anderson is a trained Ramsey Solutions Financial Coach and has been facilitating groups in previous years. 'Life. Money. Hope.' begins on Sunday, February 3 at 1:00 pm or Tuesday, February 5, at 6:00 pm. We will meet every other week, four times.
Everyday :: Serve & Witness
The Johnson Strings Show
Usually unavailable outside of Branson, Missouri, the Branson Show Performing Family of Seven is coming to town on Wednesday, January 30 at 6:30 pm at the Civic Center! There is no charge at the door. There will be a free will offering with 100% of the proceeds going to the SGHS Old School Fund to help with cleanup efforts. This is an evening not to miss!
The Bible Project Resources
Join our group hosted by Pastor Bryan by clicking here. Paper copies of The Bible Project plan are in the lobby if you prefer to read from your own Bible.
Food Bank Needs
Suggestions: tomato sauce, diced tomatoes, hamburger helper, white and brown rice (place in tub in the foyer next to closet)
https://www.bigtimberchurch.com/wp-content/uploads/2019/01/jay.jpg
279
419
Big Timber Evangelical Church
https://www.bigtimberchurch.com/wp-content/uploads/2016/05/btec-logo-2.jpg
Big Timber Evangelical Church
2019-01-27 10:02:24
2019-01-31 13:16:17
Jay Forseth, Superintendent of the Western Conference