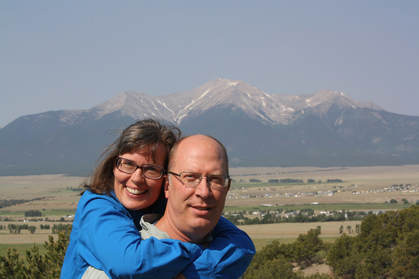 Sunday :: Worship / Fellowship
Sunday, June 28th
Jay was serving in his 15th year as Lead Pastor at Columbus Evangelical Church when called to be Superintendent of the Western Conference. He was formerly a Western Conference Chairman and Director of Kingdom Resources for our denomination.
Jay was licensed to Preach and Ordained in 2002 in the Western Conference of the Evangelical Church under the mentorship of Reverend Steve Strutz. Jay and his wife Lisa (married in 1990) have two children, daughter Sarah and son Josiah. Jay just completed his doctorate at Portland Seminary at George Fox University. Congrats Dr. Jay!

Key Verse
Then he continued, "Do not be afraid, Daniel. Since the first day that you set your mind to gain understanding and to humble yourself before your God, your words were heard, and I have come in response to them.
Daniel 10:12
Church Picnic & Games
You are invited to a church (bring your own) picnic to the park immediately following our second service. We are asking everyone to bring their own lunch and the church will provide lots of games and ice cream bars. We hope everyone can make it to this fun time of fellowship. Come join the fun!
Growthday :: Events
INTENTS Jr. & Sr. High Events
With no BCC for youth this summer, a few of our conference churches are putting together what we are calling INTENTS.
INTENTS is a camp & conference rolled into one 24-hour event!   This event will include sessions with speakers, plenty of fun, and a worship band including our very own Corban.   We'll provide lunch, dinner, breakfast & snacks.  Packed full of activities & also, actual sleeping in tents—this event will be INTENTS! Free to all. Sign up today online, just look for the link in our latest email.
Wednesday Youth Activities
There are a number of events planned for the Youth Group this summer. The goal is to do a small event each Wednesday night. This could look like hanging out at the park or church or having a bonfire. Look out for more information through emails and text messages. We will also be getting info out via our new Instagram account @bigtimberyouthgroup.
The Chosen
The Chosen is a 2017 television drama based on the life of Jesus Christ, created, directed and co-written by American filmmaker Dallas Jenkins. It is the first multi-season series about the life of Christ, and season one was the highest crowd-funded media project of all time.  The series portrays Jesus "through the eyes of those who met him".
Geared toward women, we will be showing season one in the Fellowship Hall Monday nights at 7:00 pm, starting June 22.   Each episode varies between a half hour to an hour, and ladies are welcome to stay and discuss after the showing.   You are also welcome to bring your own snacks, and, invite a friend!
'Oneness Embraced' Book Club
'Oneness Embraced' by Tony Evans :: Next meeting, July 15 at 7:00 pm here at BTE :: RSVP Elsbeth Grosfield at elsbeth.grosfield@gmail.com or 537-4507.
With the Bible as a guide and heaven as the goal, Oneness Embraced calls God's people to kingdom-focused unity. It tells us why we don't have it, what we need to get it, and what it will look like when we do.
Weaving his own story into this word to the church, Tony Evans tells of a life spent between two worlds. As a young theologian he straddled black, urban culture and white, mainline evangelicalism. Now, three decades later, he offers seasoned reflections on matters of history, culture, the church, and social justice. In doing so he gives us a biblical and pastoral guide for striving for unity across racial and socioeconomic divides.
Everyday :: Serve & Witness
Giving
So how do tithes and offerings work when we are not meeting together physically?
On the Church Website: click Donate.
Mail: Big Timber Evangelical Church, P.O. Box 696, Big Timber, MT 59011.
Text to Give: Send and Message to (406) 384-5578 with the number 1019526 in the message and press send. You will receive and link to give safely and securely through Continue to Give, our online donation provider.
Food Bank Needs
Saltine crackers, breakfast cereal (unsweetened), Hamburger Helper type box meals, canned vegetables (place in the basket in the foyer).
https://www.bigtimberchurch.com/wp-content/uploads/2019/01/jay.jpg
279
419
Big Timber Evangelical Church
https://www.bigtimberchurch.com/wp-content/uploads/2016/05/btec-logo-2.jpg
Big Timber Evangelical Church
2020-06-25 19:30:34
2020-07-03 14:46:15
Jay Forseth