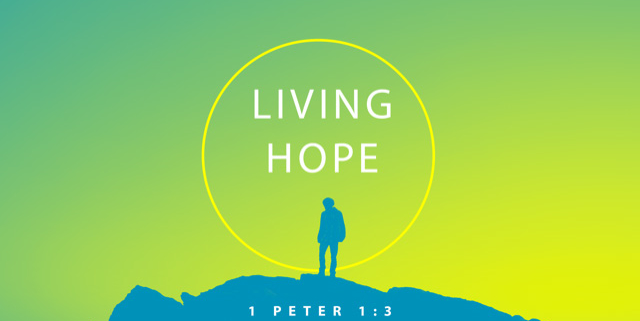 Sunday :: Worship / Fellowship
Sunday, March 15th
Early Christians had almost nothing. They lived on the margins of society. They were often persecuted. They struggled for survival. And yet they were flourishing in the grace of God, full of hope and life. They were looking forward to a better day. They knew that their final story was better than their circumstances were telling them. When all of life said "There's no hope," they were trusting in a LIVING HOPE that we can also have.

Key Verse
Praise be to the God and Father of our Lord Jesus Christ! In his great mercy he has given us new birth into a living hope through the resurrection of Jesus Christ from the dead,
1 Peter 1:3
Growthday :: Events
Youth Group
Wednesdays, 6:00 pm to 8:00 pm :: Sanctuary and basement :: Middle and high school ages :: Snack with ministry to follow
Kids' Group
Wednesdays, 6:30 to 8:00 pm :: Fellowship Hall and basement :: 1st through 5th grade
First Steps Class
This will be an informational class for new attenders, new believers, or those who would like to know more or be refreshed on what we, as a church body, believe. We will meet for two sessions, one on Sunday, April 19 at 2:00 pm and the second on the following Sunday at 2:00 pm. Sign up for these sessions is located in the lobby.
Going Beyond Live Event
Going Beyond Live Simulcast with Priscilla Shirer :: Saturday, April 25 from 9:00 am to 4:35 pm, hosted by Columbus Evangelical Church :: Tickets are $25, and include lunch and snacks :: For more info and to request tickets, call Lori at (406) 322-5804.
Going Beyond Ministries is focused on the expository teaching of the Word of God. They are committed to teaching the uncompromising truths of His Word. Their desire is not only to see all understand His written Word but for all to experience His Power!
Priscilla Shirer is a wife and a mom first. But put a Bible in her hand and a message in her heart and you'll see why thousands flock to her conferences and dive into her Bible study series' and books each year.
A graduate of Dallas Theological Seminary, Priscilla holds a Master's degree in Biblical Studies and considers it a privilege to serve believers from every denomination and culture by helping them to know the truths of Scripture intellectually and encouraging them to experience these truths practically by the power of the Holy Spirit.
Everyday :: Serve & Witness
Food Bank Needs
Saltine crackers, breakfast cereal (unsweetened), Hamburger Helper type box meals, canned vegetables (place in the basket in the foyer).
https://www.bigtimberchurch.com/wp-content/uploads/2020/03/living-hope.jpg
360
640
Big Timber Evangelical Church
https://www.bigtimberchurch.com/wp-content/uploads/2016/05/btec-logo-2.jpg
Big Timber Evangelical Church
2020-03-13 17:51:47
2020-04-10 09:21:47
Living Hope: Part 2