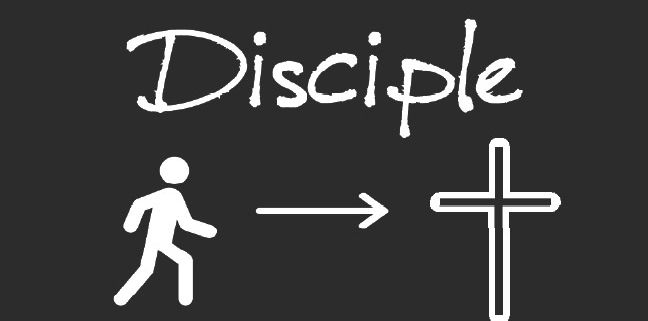 Sunday :: Worship / Fellowship
Sunday, July 14th
The word disciple is the word that we use to describe a person who is a follower of Jesus. It's a Biblical word that is packed full of meaning. A disciple is a person who has chosen to follow Jesus and become more and more like him each day. Discipleship is the process of being a disciple. This summer we will look at the lives of the first disciples to find out more about what it means to be a follower of Jesus today!

Key Verse
Then he said to them all: "Whoever wants to be my disciple must deny themselves and take up their cross daily and follow me. For whoever wants to save their life will lose it, but whoever loses their life for me will save it.
Luke 9:23–24
Growthday :: Events
Creative Arts Open Gym
Tuesdays, 1 to 3:00 pm :: Any student that is interested in music, art, writing, etc., can come to the church to hang out with friends and be creative. We will primarily focus on music (guitar, bass, drums, piano chording, and singing) and art (painting, drawing). Questions? Talk with Pastor Kyle, or you can email him at kyle@bigtimberchurch.com.
Everyday :: Serve & Witness
Prayers For Our Summer Events
We have many youth from our church and community who are participating in camps and a mission trip this summer. This can be such a vital time of beginning and/or growing their personal relationship with Jesus. This week our Jr. High campers include Aley Aller, Zoey Aller, Grace Casey, Kodie Casey, Zach Cowell, Cole Ferguson, Henry Foulk, Abby Godwin, Rylan Graham, Declan McBurney, Noah McKinnon, Emy Toulouse, Oscar Toulouse, Adelyn Tronrud, Elyse Tuscano, and Lucas Widdison. Will you please join us in lifting them up in prayer?
Reading Plans & Devotions
Go to your App Store and type in "YouVersion" Bible app or grab a paper copy of The Bible Project plan in the lobby. TODAY IS DAY 181. Catch up or join us on today's. It's never too late start!
There are many other resources for studies, devotions, etc. that we want to continue to highlight. We have booklets in the foyer of the current "Our Daily Bread" devotional. But you can also get it delivered fresh daily to your email, or, download the app. For more details and resources, go to their website, at odb.org.
https://www.bigtimberchurch.com/wp-content/uploads/2019/06/disciple.jpg
332
648
Big Timber Evangelical Church
https://www.bigtimberchurch.com/wp-content/uploads/2016/05/btec-logo-2.jpg
Big Timber Evangelical Church
2019-07-13 09:16:55
2019-07-19 09:38:40
Disciple: Part 5