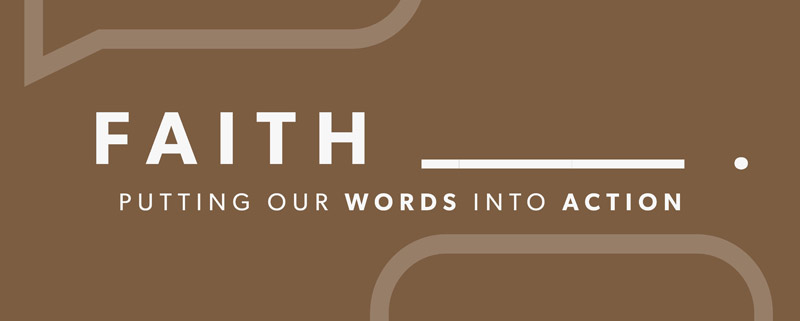 Sunday :: Worship / Fellowship
Sunday, January 12th
True faith has to be more than just what one believes. Faith, true faith, connects our heart, head, and hands. It is something that affects the whole of who we are and the whole of what we do. So what does true faith look like when it is fully connected to our heart and worked out in what we do? Join us for a series called FAITH DOES!

Key Verse
22 Do not merely listen to the word, and so deceive yourselves. Do what it says. 23 Anyone who listens to the word but does not do what it says is like someone who looks at his face in a mirror 24 and, after looking at himself, goes away and immediately forgets what he looks like. 25 But whoever looks intently into the perfect law that gives freedom, and continues in it—not forgetting what they have heard, but doing it—they will be blessed in what they do.
James 1:22-25
Growthday :: Events
Youth Group
Wednesdays, 6:00 pm to 8:00 pm :: Sanctuary and basement :: Middle and high school ages :: Snack with ministry to follow
January 15 Youth Group
January 22 Youth Group
January 29 Youth Group
Kids' Group
Wednesdays, 6:30 to 8:00 pm :: Fellowship Hall and basement :: 1st through 5th grade
Everyday :: Serve & Witness
Food Bank Needs
Saltine crackers, breakfast cereal (unsweetened), evaporated milk, toilet paper (place in the basket in the foyer).
Montana On A Mission
Thank you for supporting Montana On A Mission in 2019! There was a $20,000 matching gift at the end of 2019 and it was matched and exceeded because of the many people who support MOM around the globe. Please keep MOM in your prayers.
Yancy Terland and Pastor Bryan will be in Romania in March and might possibly tag on a short trip to Liberia to work with the Liberian Evangelical Mission. Pray for the community of Uncesti, Romania, that a well will provide clean, accessible water for the community, and that it will ultimately point people to the "living water" (Jeremiah 2:13, John 4:10).
Reading Plans
A new year has begun and it's a perfect time to begin a new daily Bible reading plan. Reading the Bible is one of the best habits you can develop. The daily exercise develops discipline, helps you know God better, brings questions to mind, and helps you personally grow in your walk with God.
Click here to see plans that Pastor Bryan recommends. If you would like a printed copy of these plans, please pick up a copy in the lobby.
https://www.bigtimberchurch.com/wp-content/uploads/2020/01/faith.jpg
450
800
Big Timber Evangelical Church
https://www.bigtimberchurch.com/wp-content/uploads/2016/05/btec-logo-2.jpg
Big Timber Evangelical Church
2020-01-11 16:48:18
2020-01-31 17:48:23
Faith Does: Part 2