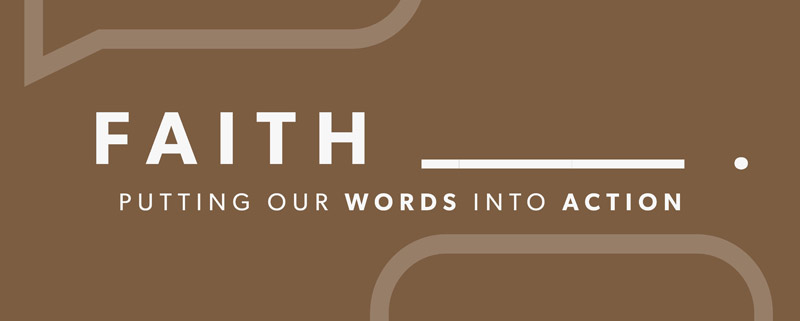 Sunday :: Worship / Fellowship
Sunday, January 19th
True faith has to be more than just what one believes. Faith, true faith, connects our heart, head, and hands. It is something that affects the whole of who we are and the whole of what we do. So what does true faith look like when it is fully connected to our heart and worked out in what we do? Join us for a series called FAITH DOES!

Key Verse
22 Do not merely listen to the word, and so deceive yourselves. Do what it says. 23 Anyone who listens to the word but does not do what it says is like someone who looks at his face in a mirror 24 and, after looking at himself, goes away and immediately forgets what he looks like. 25 But whoever looks intently into the perfect law that gives freedom, and continues in it—not forgetting what they have heard, but doing it—they will be blessed in what they do.
James 1:22-25
Growthday :: Events
Youth Group
Wednesdays, 6:00 pm to 8:00 pm :: Sanctuary and basement :: Middle and high school ages :: Snack with ministry to follow
*Sign up now for Clydehurst Winter Camp! Middle school camp runs February 8 – 10, and High School is February 15 -17. For more information and to sign up, go to Clydehurst.com.
Kids' Group
Wednesdays, 6:30 to 8:00 pm :: Fellowship Hall and basement :: 1st through 5th grade
The Money Class
Life ~ Money ~ Hope :: Meets every other Sunday at 5:00 pm in the Fellowship Hall, starting February 9. :: The Money Class focuses on God's ways of handling money throughout different stages of life, and offering hope to those who want to make positive change and gain practical knowledge of how to grow in the area of finance. This is a free class and you will receive free coaching, with Ramsey Solution Master Financial Coach, George Anderson. Interested? Please sign up in the lobby.
In The Lobby…
You may have begun to notice some changes in our lobby. Besides offering coffee now, which is a big hit, we've added a new staffed Welcome Center. Our prayer is to be able to offer more opportunities for those who want to learn more about our church, who are looking for ways to plug into our different ministries, or those who would like to serve, to be able to connect more easily with us. Our Welcome Center staff will be happy to help facilitate these connections.
We also right now have several sign ups located on the counter right outside our sanctuary doors. If you are new to BTE, new to your Christian walk, or are looking for opportunities to plug into some of our ministries, you can sign up. These sign ups will give us a good gauge on what we are hoping to offer and who we can minister to in the future. Come grab some coffee and check it out!
Everyday :: Serve & Witness
Food Bank Needs
Saltine crackers, breakfast cereal (unsweetened), evaporated milk, toilet paper (place in the basket in the foyer).
Reading Plans
It's still a great time to begin a new daily Bible reading plan. Click here to see plans that Pastor Bryan recommends. If you would like a printed copy of these plans, please pick up a copy in the lobby.
https://www.bigtimberchurch.com/wp-content/uploads/2020/01/faith.jpg
450
800
Big Timber Evangelical Church
https://www.bigtimberchurch.com/wp-content/uploads/2016/05/btec-logo-2.jpg
Big Timber Evangelical Church
2020-01-18 12:16:40
2020-01-31 17:48:11
Faith Does: Part 3